Interior/Convenience accessories for 2007 Chevrolet Tahoe
Select Interior/Convenience accessory
Visor CD/ DVD Holder
Description:
Change your CD music selection without missing a beat or change your DVD without leaving your seat. This handy holder slides over the...
Fits:
Buick:

Century,
Enclave,
LaCrosse,
LeSabre,
Lucerne,
Park Avenue,
Rainier,
Regal,
Rendezvous,
Terraza

Cadillac:

CTS,
DeVille,
DTS,
Eldorado,
Escalade,
Escalade ESV,
Escalade EXT,
Seville,
SRX,
STS,
XLR

Chevrolet:

Astro,
Avalanche,
Aveo,
Blazer,
Camaro,
Cavalier,
Cobalt,
Colorado,
Corvette,
Equinox,
Express 1500,
Express 2500,
Express 3500,
HHR,
Impala,
Malibu,
Metro,
Monte Carlo,
Prizm,
Silverado 1500,
Silverado 1500 Classic,
SSR,
Suburban 1500,
Suburban 2500,
Suburban C1500,
Suburban C2500,
Suburban K1500,
Suburban K2500,
Tahoe,
Tracker,
Trailblazer,
Trailblazer EXT,
Traverse,
Uplander,
Venture,
Volt

GMC:

Acadia,
Canyon,
Envoy,
Envoy XL,
Envoy XUV,
Jimmy,
Safari,
Savana 1500,
Savana 2500,
Savana 3500,
Terrain,
Yukon,
Yukon XL 1500,
Yukon XL 2500
Discontinued
Discontinued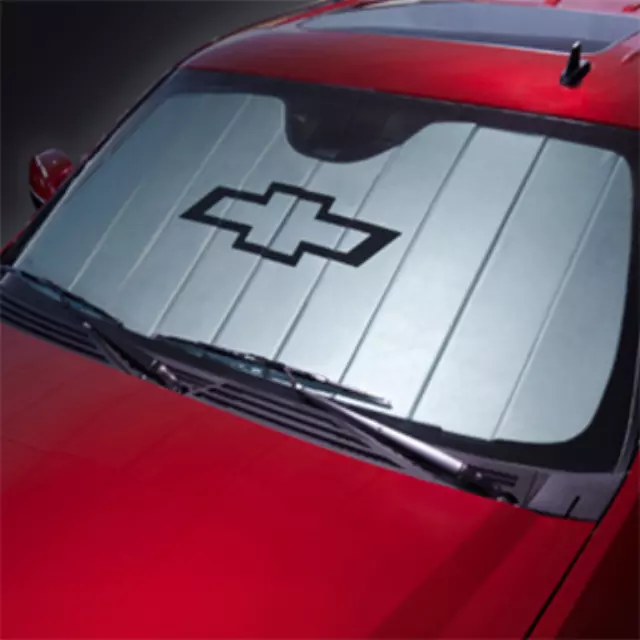 Windshield Sunscreen
Other Names:
Windshield Sunshade
Replaces: 22915762
Description:
This windshield Sunshade Package will not only help keep the interior of your Avalanche cooler on hot sunny days- it will also help...
Notes:
Silver with Black Chevy Bowtie logo.
Fits:
Chevrolet:

Avalanche,
Silverado 1500,
Silverado 1500 Classic,
Silverado 1500 HD Classic,
Silverado 2500 HD,
Silverado 2500 HD Classic,
Silverado 3500 Classic,
Silverado 3500 HD,
Suburban 1500,
Suburban 2500,
Tahoe
No results found. Here are some helpful search tips:

Search by a part name. Example: water pump.
Be less specific. Example: brake instead of ceramic brake.
Remove information such as make, year or model.
Can't find the part you are looking for? Contact us and we'll find it for you!